On Thanksgiving Eve — the busiest travel day of the year — a snowstorm is burying roadways in the Midwest as a separate massive storm barrels through Oregon and California.
Interested in
Weather?
Add Weather as an interest to stay up to date on the latest Weather news, video, and analysis from ABC News.
Storm 1
The first storm is pummeling the upper Midwest Wednesday morning, bringing 60 mph wind gusts, which is expected to cause travel delays at Midwest airports.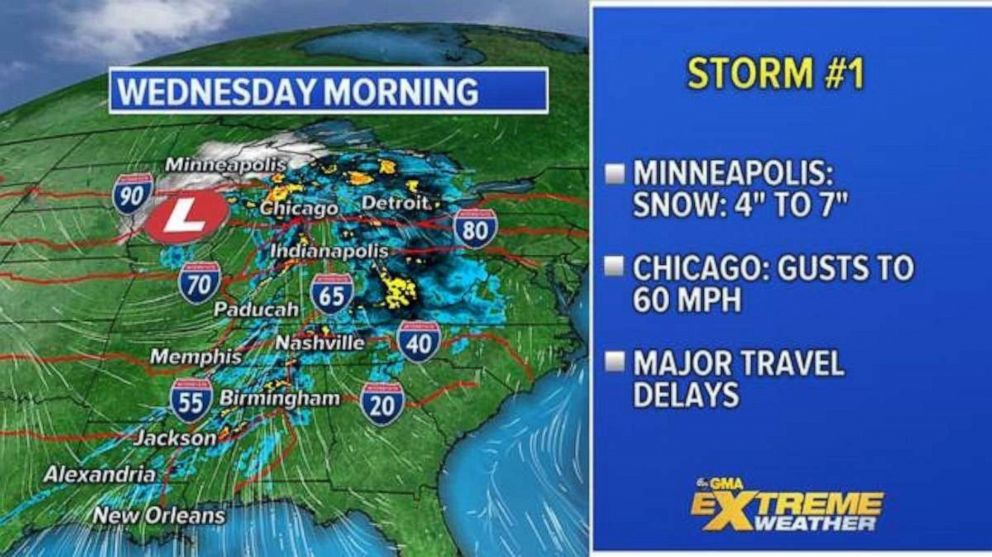 The storm brought over 30 inches of snow to parts of Colorado and 10 inches to areas in Nebraska and Kansas.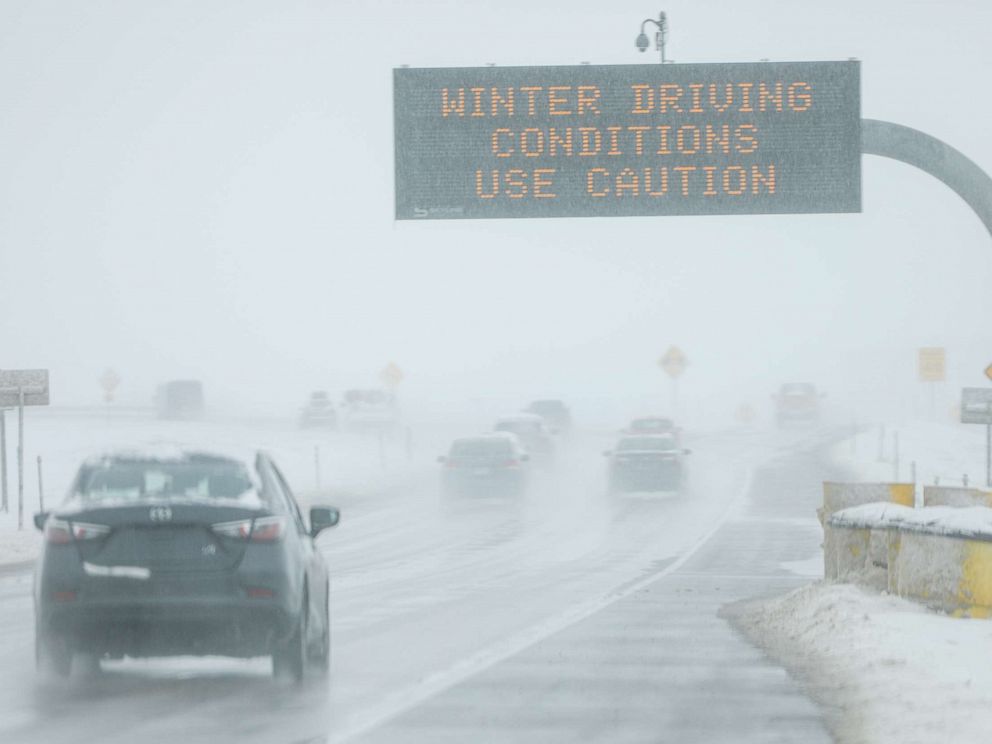 Eight inches of snow have already been reported in parts of Iowa and Minnesota Wednesday morning.
For those traveling along I94. Starting near Ashby the roads are covered w/some light snow & slick. Moving east along the freeway it gets worse as Troopers are currently out w/crashes; I94 at Sauk Centre, Melrose & St. Cloud (no inj.) Please drive w/caution & buckle up pic.twitter.com/lmCA7qHizl

— Sgt. Jesse Grabow (@MSPPIO_NW) November 27, 2019
Wind gusts climbed to over 50 mph in Illinois, Iowa, Kansas, Missouri and Arkansas.
This storm also caused four reported tornadoes — two in Louisiana and two in Mississippi.
That storm will then lose strength as it reaches the Northeast, which could see snow showers and rain showers Wednesday and into Thanksgiving morning.
But the biggest problem for the Northeast will be gusty winds on Thanksgiving Day — which could keep balloons from flying in the Macy's Thanksgiving Day Parade.
New York Police Department Chief Rodney Harrison said Tuesday that the decision on whether or not to fly the balloons will be a "game day decision."
Wind speed devices will be used to determine which balloons can soar at what height. Each of the 16 giant character balloons has a risk profile depending on the size and weight.
Harrison noted that because people from all around the world come to New York City for the parade, "safety is paramount."
Storm 2
Meanwhile, a separate storm is pounding the West Coast, bringing a wind gust of 106 mph to Cape Blanco, Oregon, and massive 34 foot waves.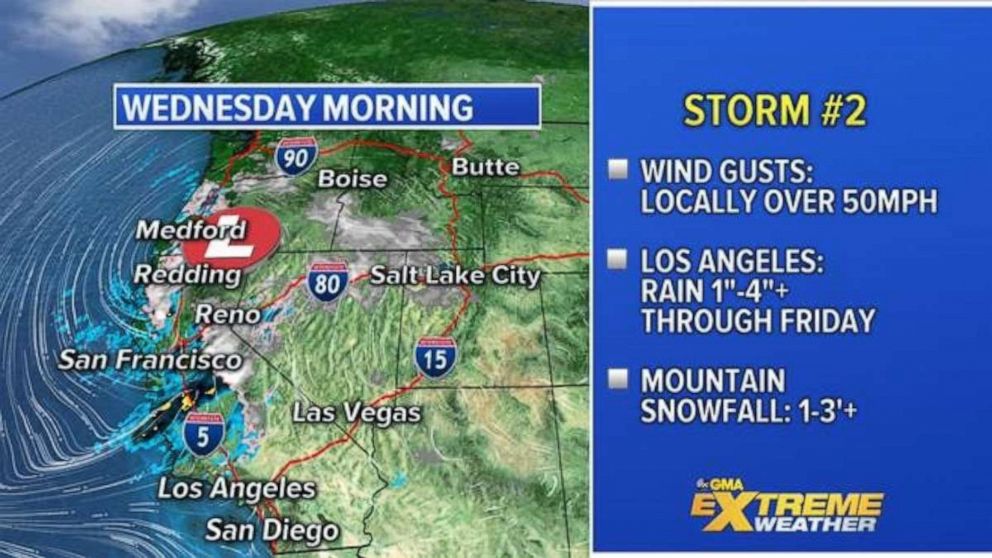 The storm set numerous records overnight, including an unofficial all-time low-pressure record in California. Low pressure indicates the power of a particular storm.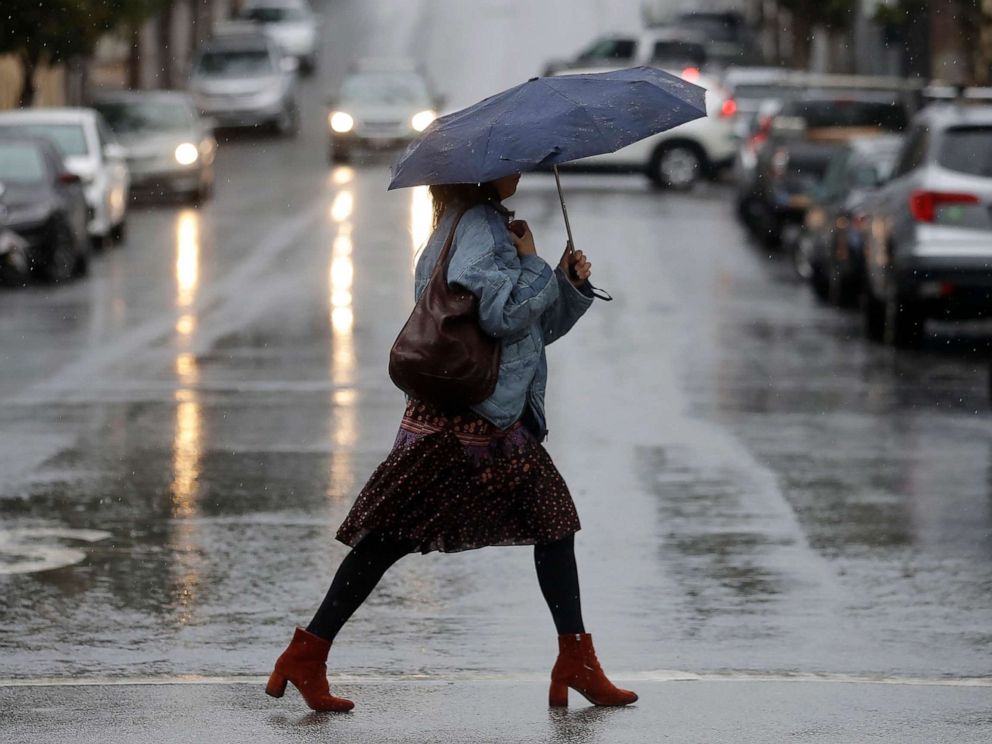 The storm is starting to weaken Wednesday morning but 50 mph wind gusts and rain will still cause major travel problems.
Los Angeles could be slammed with 1 to 4 inches of rain, which could bring debris flow and flash flooding through Friday.
The mountain ranges in California and Nevada could get over 3 feet of snow.
On Thanksgiving and Friday, parts of the Rocky Mountains will be hit by snow, possibly reaching 1 to 3 feet.
The storm will intensify as it moves east of the Rockies. Strong thunderstorms are possible across the southern Plains on Friday.