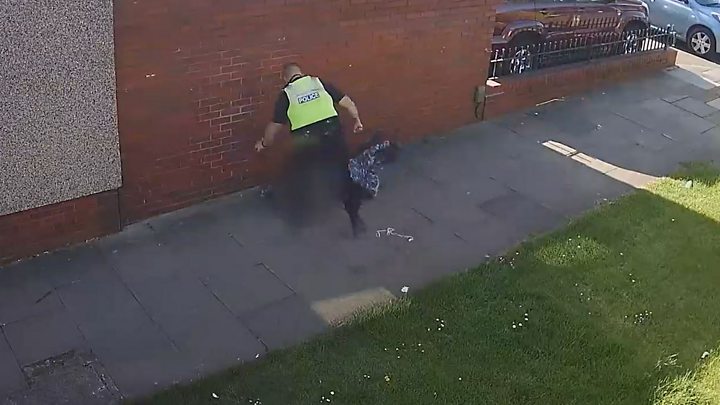 A policeman who used to be suspended after allegedly the use of vulgar power on two cases in Birmingham is being investigated over a Third criticism.
The officer's behaviour hit the headlines earlier in Might maybe maybe, when pictures emerged that looked as if it would instruct him inserting and kicking a 15-one year-feeble boy.
He used to be additionally accused of the use of vulgar power when stopping a particular person on a bicycle.
Now West Midlands Police acknowledged it had viewed cellular phone pictures exhibiting a particular person being Tasered by the officer.
Of the third allegation, police acknowledged: "Now we were made responsive to a cellular cellular phone video exhibiting a member of the final public being Tasered by the officer in Handsworth.
"Officers were going throughout the aftermath of a pursuit on 27 February after they spoke to the actual person.
"He used to be subsequently Tasered earlier than arrest and released with a conditional warning.
"Relying on the pause result of this investigation, the warning administered will most definitely be topic to research."
The officer, whom police absorb declined to name, used to be suspended earlier this month after the other two allegations came to light.
The incident provocative the 15-one year-feeble boy occurred in Newtown on 21 April, while the criticism by the bicycle owner related to a pause made by police the day sooner than in Aston.
Follow BBC West Midlands on Fb, Twitter and Instagram. Send your memoir ideas to: newsonline.westmidlands@bbc.co.uk